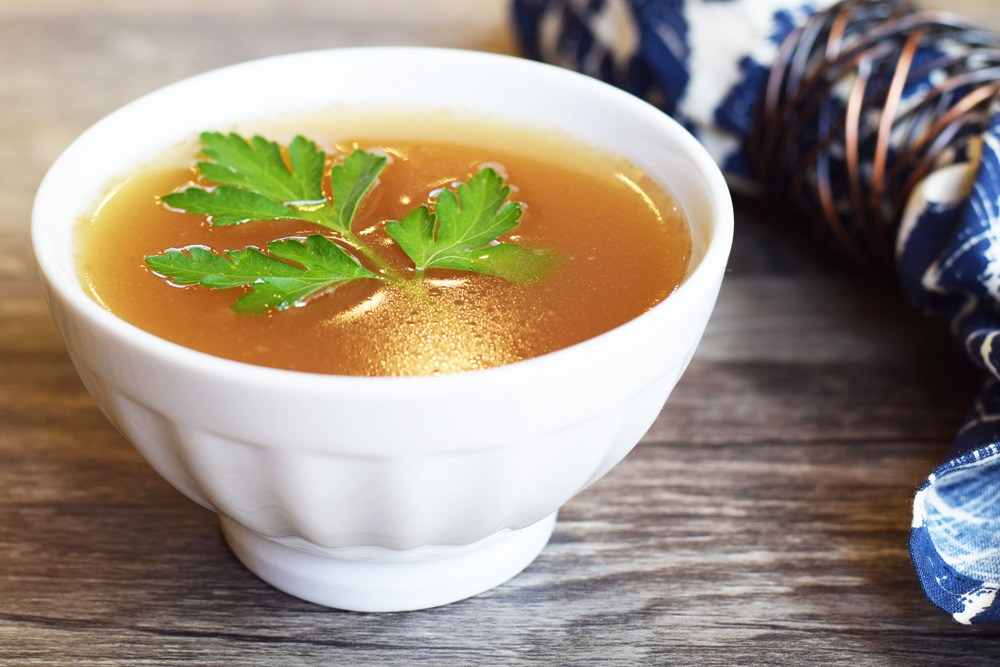 Prep Time: 5 minutes
Cook Time: 2.5-24 hours (depending on equipment)
Ingredients:
1 lbs chicken feet (or another kind of bones)
1 lbs chicken back/neck (or other kind of bones)
1 tablespoon organic apple cider vinegar
6-10 quarts water (preferably filtered or spring)
optional – 2 bay leaves
optional – 1 teaspoon of whole cloves
optional – 1 unpeeled shallot or ½ onion
optional – 2-5 unpeeled carrots
optional – 2-5 celery stalks with leaves
optional – 1 bunch of fresh herbs (rosemary, thyme, and/or sage)
optional – ½ – 2 tbsp salt to taste (preferably pink Himalayan sea salt)
optional – ½ – 2 tbsp black pepper to taste (preferably fresh ground)
Preparations:
Put the first 6 ingredients (all except the salt, pepper, fresh herbs, and vegetables) into a slow cooker or pressure cooker).
Set slow cooker to the low setting for 8-20 hours. (in pressure cooker, set on high for 2-4 hours).
Add the fresh herbs, salt and pepper to taste, and continue to cook on low for 2 more hours (in pressure cooker add vegetables, salt, pepper, and fresh herbs and set for 10 minutes).
Use tongs to remove large solids and then strain broth.
Use storage instructions below.
The more advanced method that I use on beef and other large mammal bones involves a few more steps, but the flavor is worth it, especially after getting the hang of the easier version (which I still use for chicken broth). These are the recipe guidelines I use:
Preheat the oven to 450 degrees F (232 degree C).
Blanch the bones (put the bones in boiling water) for about 20 min. Again, you may use a lot of bones for a richer broth, or as little as a handful.
Strain the bones and use tongs to place them separated on a cookie sheet.
Roast in the roaring hot 450° F oven for 20-30 min.
Use tongs to place the bones in your cooker (for more flavor, scrape the drippings from the bottom of the pan and add to the cooker).
Add water and switch the slow cooker on low for at least six, but usually 12 or more hours, or set the pressure cooker to two to four hours on high.
Feel free to add a few choice spices and/or veggies to the pot for less than a quarter of the total cook time (or an additional 5 min in the pressure cooker).
Use tongs to remove the solids from the cooker and then strain broth. You may want to hold onto the bones for the next batch. You can reuse bones to make multiple batches of broth until the bones go soft.
Storage Instructions:
You can cool the broth quickly by adding a few cups of ice. When the broth is tolerable to touch for a few seconds, store in fridge or distribute in containers to be frozen. Alternatively, you can simply set the slow cooker or pressure cooker to the warm setting and let the strained broth sit available for a week or so. In many restaurants, there is always a pot on the burner on low, providing a "master stock." This broth may be several days old, but because the pot is kept warm, the stock is enhanced as time passes.
When I find myself using less than half of my stock each time I take some, I replace the broth that I use with fresh water because Dr. Wahls has told me that she doesn't think the broth will be diluted enough to make a big difference in the nutrient content. If using most of the broth, I may still replace the broth with water, but I will then return the used bones to the pot and set the slow cooker on low overnight (or cook in pressure cooker for 5 min). My stock pot (slow cooker) is always warm to drink from or to cook with, and every week, I make a new broth with new ingredients.