We can take care of our brains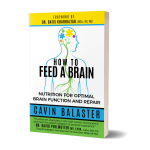 "I am nearly four years out from my traumatic brain injury and I have been through 100's of hours of rehabilitation therapy. I have been surprised by how little attention is given to adequate nutrition for recovering from TBI. I'm always looking for further opportunities to recover and so this book fell into the right hands. Cavin outlines the science and reasoning behind the diet he suggests, but the real power in this book comes when he writes, "WE." WE can give our brains proper nutrition. Now I'm excited to drink smoothies and eat breakfasts that look like dinners! I will recommend this book to my friends.
(I was given a complimentary copy of this book in exchange for an honest review.)"
- Rachel J.