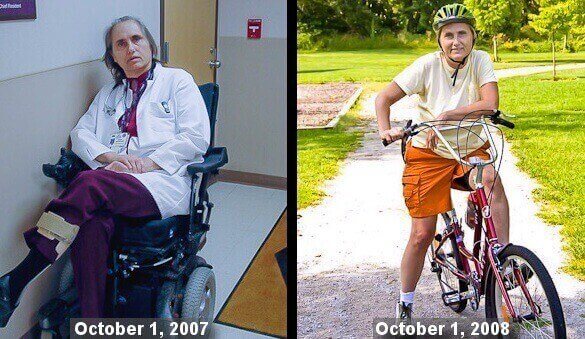 The Beginning of a Health Revolution:
Terry Wahls MD was diagnosed with a crippling case of Multiple Sclerosis, and even after 7 years of the best treatment modern medicine had to offer, her condition continued to worsen. She had to be in reclining wheelchair and she had to sit in a zero gravity chair because she was unable to hold up her own torso.
She made a decision to change her life, and take her health into her own hands. She began to research how nutrition could be used to rebuild her nervous system using large quantities of extremely nutrient dense foods and removing foods that create inflammation. She was able to fully recover using a nutritional protocol.
The Heart of the Matter:
She committed to consuming between 6-9 cups of veggies and berries per day! She also consumed nutrient-dense foods like organ meats, and seaweed to get nutrients like vitamin B complex, and iodine that are essential for rebuilding and myelinating neurons.
Myelination is when your body creates a fatty coating on the outside of a neuron-like a coating on a wire. Myelinated neurons can fire up to 10 times faster than their unmyelinated counterparts.
The Wahls Protocol
First Terry wrote, "Minding My Mitochondria" which just covered the foods and nutrients required. This book title was also the title of her TED Talk about her story that got over 2.8 million views on YouTube (at the bottom of the page)!
She then wrote "The Wahls Protocol" and released "The Wahls Protocol: Cooking for Life" cookbook.
These books give the step by step process and there are recipes to go with it so you can truly reap the benefits of this lifestyle. She explains the different levels of the protocol all the way to a high-fat ketogenic anc paleo diet that she calls "Wahls Paleo Plus".
She explains why we should limit our seed intake to 4 oz or less. She also explains why you need to avoid polyunsaturated oils or hydrogenated oils, and instead go for healthy saturated fats like ghee, coconut oil, and animal fats, and healthy monounsaturated fats like olive oil and avocado oil.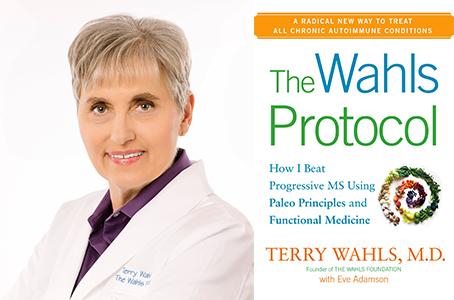 The Other Stuff You Want To Leave Out
Casein and gluten are two huge reasons why people have a number of problems with our immune system, digestion, and over all stress levels. Casein is a milk protein, and gluten is a protein in wheat and some other grains.
These proteins turn into casomorphin and gluteomorphin when they break down inside of us. These compounds have opioid-like effects that cause serious digestive issues long term among other side effects. They are also very addictive foods because they interact your endorphin receptors.
Leaky Gut Syndrome
Casein and gluten (especially gliadin which is a component of gluten) cause intestinal permeability that can lead to leaky gut syndrome over time. Leaky gut syndrome or intestinal permeability can lead to a host of auto-immune conditions, and even behavioral issues like depression and anxiety.
It can cause brain fog, weight gain, inflammation, and more. It is often called the "disease your doctor cannot diagnose" partly because it is the root of so many common conditions.
Read our Full Article on Digestion here.
The Wahls Warriors
Since she created the Wahls Protocols, she has helped thousands of people with auto-immune and neurological issues using paleo principles, functional medicine, and therapeutic ketogenic diets. They call themselves the Wahls Warriors.
What is most amazing to me, which she explains in this TED Talk is that after seven grueling years modern medicine could not stop the onslaught of debilitating symptoms. However using this kind of nutritional protocol, she was able to bounce back in about year.
A Year is a Drop in a Bucket…
Some people think a year is a long time, but when you are facing your own destruction like an "incurable terminal illness", one year is a drop in the bucket especially if you had already suffered for seven years with no results.
Below is more about her story and protocols. I highly recommend you check out her Wahl's Protocol Cookbook: Cooking for Life. It is a great way to eat delicious food that is extremely nutrient dense. Test things out and see what works best for you.
FDA Compliance
The information on this website has not been evaluated by the Food & Drug Administration or any other medical body. We do not aim to diagnose, treat, cure or prevent any illness or disease. Information is shared for educational purposes only. You must consult your doctor before acting on any content on this website, especially if you are pregnant, nursing, taking medication, or have a medical condition.