How The Gut, The Brain, and The Skin Affect Each Other: Skin in the Game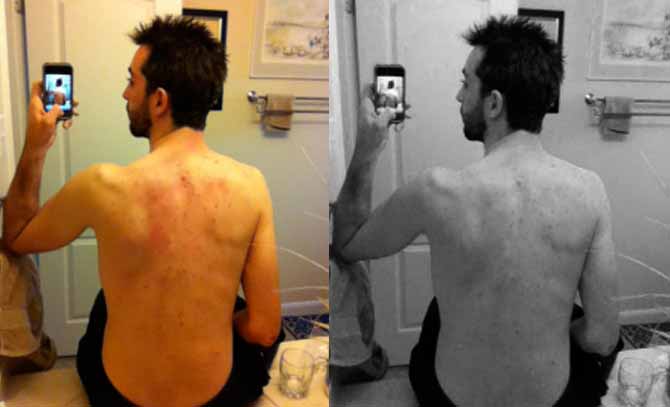 In the spirit of the week of Valentines Day, I wanted to write about something really sexy, so here it is: I hadn't had severe acne since those goofy, pimply faced days in high school and, even then, I never really had "bacne" (acne on my back). But since my brain injury, I had begun to breakout on my back.
But why was I suddenly breaking out in my late 20s ever since I had found myself unable to walk, talk, or eat and in a hospital bed after spending 12 days in a coma? And why had it not subsided by now? What could be causing this? The nasty hospital sheets? The low quality soap that was being used to clean me? The liquid crap that trickled into my stomach through a tube? After all, that stuff had "sugar" listed as the first ingredient! (Boost Ingredients) Or was it the brain injury itself?
I never even considered the two latter possibilities, because I sort of held an indefinite and unclear, common perspective of the human body as a machine that could be analogous to a car. I thought of the body in the "tunnel vision" framework that held that some parts are connected and others are not. For example, if your brakes are shot, the steering column is still good. If you put sugar in the gas tank and destroy the engine, the frame is still intact. If you slash the tires, your motor still runs etc…
Even though the cause (etiology) of acne is not fully understood, anyone who has lived past puberty knows the results all too well, unless they were one of the fortunate few. What we know is that an oily substance called sebum, that is created by a gland within every hair follicle or pore (sebaceous gland), is meant to keep the hair and skin healthy. What happens with acne is that sebum is overproduced and mixed with dead skin cells (desquamated epithelial or keratin cells) to create a "pimple." As sebum is overproduced and mixed with dead skin cells, acne bacteria (propionibacterium acne) colonizes within this mixture and releases inflammatory cytokines, like the ones I spoke of in the last post, which cause inflammation. This inflammation weakens the tiny pore wall under the surface of the skin, and, if enough pressure is created by this buildup of fluid and bacteria, causes it to rupture under the surface. This may cause surrounding pores to become infused with this mixture of sebum, dead skin cells, and acne bacteria, which leads to a colony of "pimples" in one area or in extreme cases, inflammatory lesions like a cyst. (Immunohistochemical evidence of chronic inflammation in acne vulgaris)
Why was I breaking out after my brain injury? There must be a connection like there was between my gut and my brain. It turns out that the gut and skin show many connections. For example, a gut condition known as SIBO, or small intestinal bacterial overgrowth, is 10 times more prevalent in those with acne rosacea. (Small intestinal bacterial overgrowth in rosacea: clinical effectiveness of its eradication) Additionally, "One study involving over 13,000 adolescents showed that those with acne were more likely to experience gastrointestinal symptoms such as constipation, halitosis, and gastric reflux. In particular, abdominal bloating was 37% more likely to be associated with acne and other seborrheic diseases (inflammatory skin disorders affecting the scalp, face, and torso)." (Acne vulgaris, probiotics and the gut-brain-skin axis – back to the future?) I have explained how brain injury can cause cytokines to be released into the bloodstream due to intestinal permeability in the last post (Food for Thought). Perhaps these cytokines additionally make their way into the sebum at an increased rate which, in turn, increases the inflammation under the surface of the skin, thereby making it easier to rupture under the surface and spread. Thus, because there is a gut/brain connection and a gut/skin connection, there is a whole gut/brain/skin connection.
But why had this acne gotten worse after I began an elimination diet? The skin is the largest organ of the human body and is a major organ of elimination, as is the second largest organ: the liver. The skin is an organ that releases toxins from the body by means of sweating through skin pores. This is why people have used saunas for thousands of years. Toxins are excreted from the body through several methods including the skin sebaceous glands and acne breakouts are very common during any detox. (Horrible breakout with liver detox)I speculate that the detoxifying effects of this elimination diet helped to release many toxins from my gut that had been happily fed prior to adopting this diet, and that inflammatory cytokines would latch onto these toxins and then direct them to be excreted through the pores and liver by means of the natural killer cells that I spoke of in the last post (Food for Thought). I would additionally speculate that these cytokines may join the toxins on their ride out of the body through the pores and the presence of more cytokines would increase within the pores causing a breakout.
To sum it all up, if the brain's communication with the gut is compromised, intestinal permeability may result, which exacerbates itself by inflaming the brain and further diminishing communication with the gut. Additionally, gut conditions are associated with skin conditions. Like the falling of dominos, the brain affects the gut which, in turn, affects the skin. Therefore, the brain affects the skin too.
As the months passed (and I wish that I documented the progression more closely), I began to clear up and feel better all around. At a snails pace for what my experiences were prior to my brain injury, but at a jet-plane's pace, so I'm told, for a brain injury survivor, I began to get better, and clearer, not only mentally but my skin as well. My incredible mother, who was by my side only hours after my fall, and who walked me through it all, had told me and others hundreds of times during these adventures in brain injury that she's "got a lot of skin in this game!" She does indeed. And it is a relief that my "skin in the game" was clearing up as well.
What do you think? I'd love to hear about your experience and research.