The Hospital Nutrition Revolution!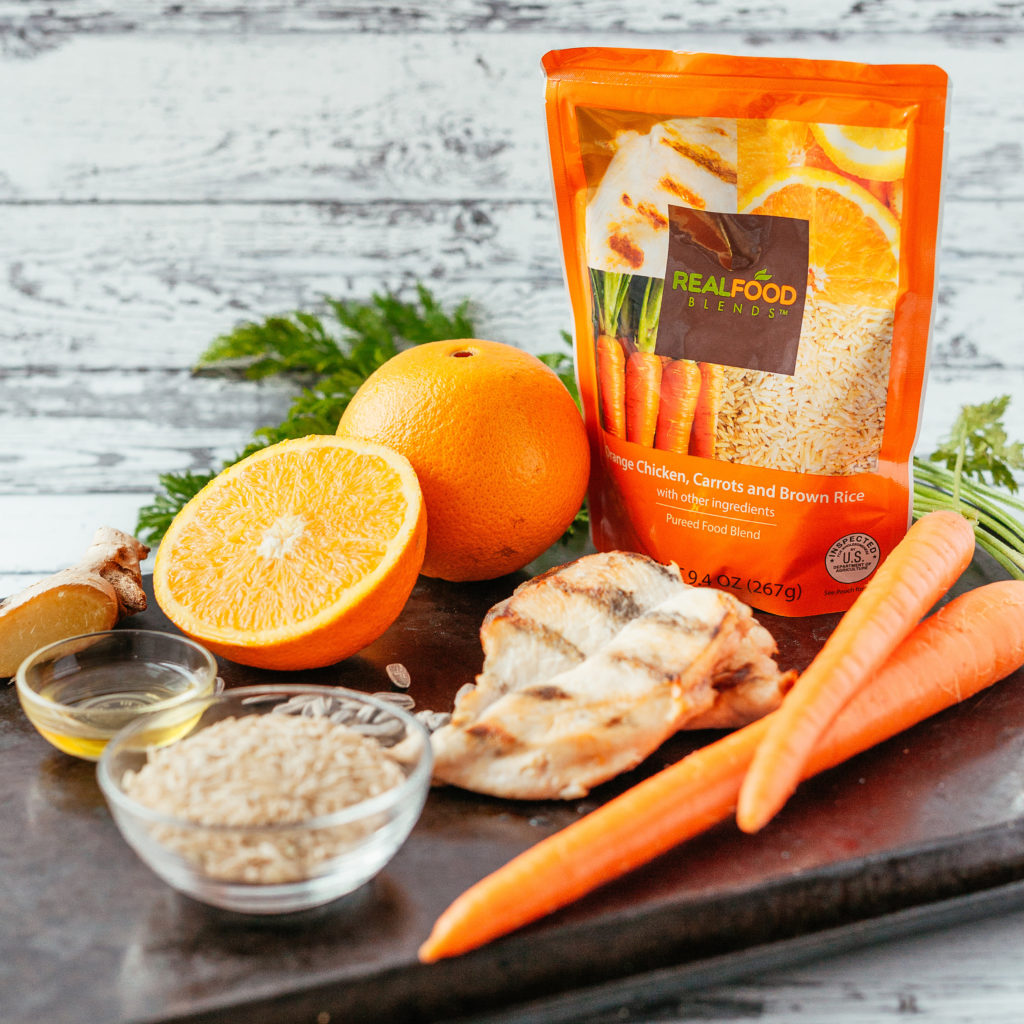 Let Food Be Thy Medicine?
We have all heard about how terrible hospital food is, right? Whether you have been in one yourself, or visited a relative in one, the idea of hospital food being terrible is now a comical trope and has been for quite some time. It is on par with airline food which has been become its never-ending source of jokes.
Did you know that the most common gastric feeds for those who cannot eat conventionally are mostly corn syrup, soy protein isolate, and milk derivatives? That's just the base of the formula.
Food First, Supplements Second
Some of the forms of the vitamins found in these feeds are at best, poor sources for these nutrients, and at worst, toxic to human physiology.
Many men, women, and children who have brain injuries, swallowing difficulties, neurological, digestive ailments, and many other conditions are fed gastric feed products that cause more inflammation and disease!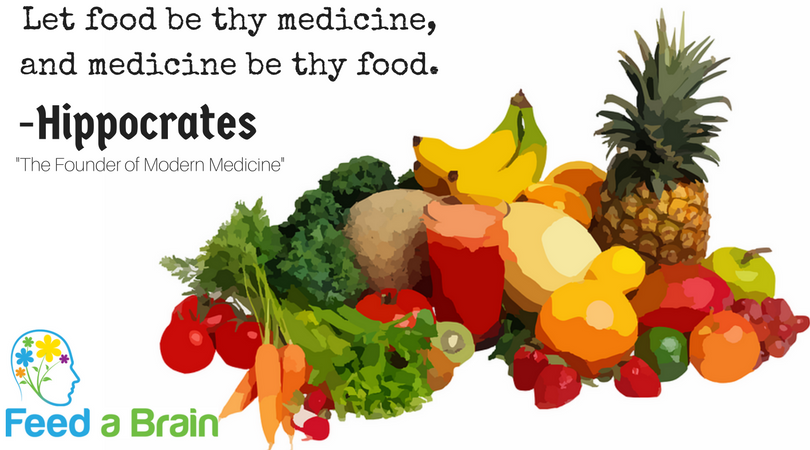 A New Paradigm
As the founder of modern medicine, Hippocrates, once said: "Let food be thy medicine, and medicine be thy food." These gastric feeds used by most hospitals are far from medicine.
They are created by multi-national corporations who want only one bottom line from their product: profits. By making the cheapest product possible, and selling it for the highest possible margin, they make the most money.
Our Mission
We are currently talking to several companies to promote some gastric feeds that are Feed a Brain approved.
Our competition is the corporate giants that are creating poor quality products for profit instead of making high-quality products to bring about the best possible outcome.
We are working to bands together with many of these companies that are changing the face of medicine. Together, we can change the world. Please contact me if you are interested in joining forces: [email protected] (write GASTRIC in the subject line).
AMPLE Meals:
We are talking to AMPLE meals among others to create powdered, real-food gastric feeds that are shelf stable, affordable, and help to create optimal digestive health.
Their current products are amazing meal replacements for people who are eating conventionally and they can also be fed as a bolus through a gastric feed. It is a nutrient-dense collection of superfoods including a panoply of probiotics, soluble and insoluble fiber to feed them, foods that regulate blood sugar, and so much more.
AMPLE is NOT a Complete Gastric Feed, but It is Still Great
At this time, their formula is not complete enough to act as a stand-alone gastric feed. This means that AMPLE alone is not able to provide every micronutrient and macronutrient on its own, but it is shelf stable, convenient to be fed (just add water and shake), and can be used in conjunction with other feeds.
Check out the video below to see Connor's mission with AMPLE. To learn more about the ingredients, and why they choose these ingredients, go to their full website at www.amplemeal.com to see their full formula. Use the coupon code FEEDABRAIN at check out for a 15% discount.
AMPLE Meals Founder Connor Explains His Mission:
Cauldron Broths:
Another company we are working with is Cauldron Broths. We are working with them to create a real-food gastric feed that uses bone broth as a base which will also help heal leaky gut syndrome (aka intestinal permeability) which will in turn lower inflammation levels and support overall health. Hippocrates also said "All disease begins in the gut."
Another way of seeing this is that all health also begins in the gut. By supporting digestive health, and using the ingredients that nature provided for us, we are already way on our way to living a healthy and wholesome lifestyle.
We are currently in the research and development phases of designing two products with Cauldron Broths, and they have a similar goal of getting their products into hospitals across the nation like we do.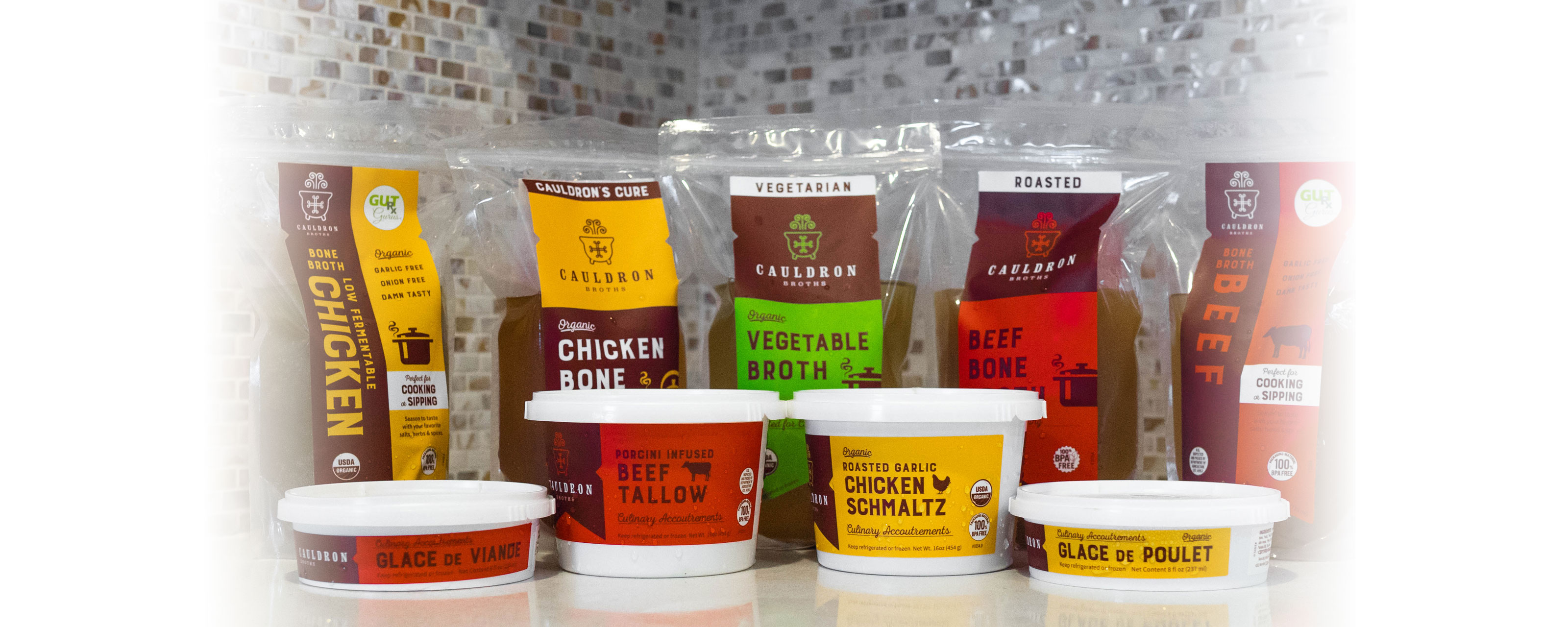 Currently, they have delicious bone broths, and animal fats that are infused with antioxidant, mineral, and phytonutrient rich plants like wakame, kombu, sage, garlic, celeriac, and more!
We love their products, and while they are not a complete gastric feed yet, their products are amazing for any paleo or keto household or even if you just love to make delicious home-cooked meals.
Click here to learn more about Cauldron Broths. Use the coupon code FEEDABRAIN for a discount.
Functional Formularies:
While in our quest to find and create real food gastric feeds to create a revolution in hospital nutrition, we found another crusader with the exact same mission as us, and also with a very similar story. Robin Gentry McGee has a background in nutrition, and has studied functional medicine for a number a years.
When her father incurred a traumatic brain injury after slipping on black ice, he was left only able to eat through a gastric tube. After being on this liquid feed for nearly a year, Robin made the startling discovery that this "food" product was mostly corn syrup, and chemicals like we said previously.
She talked to her doctor of osteopathy, scoured the internet, and looked for any possible alternative that she could to help her father. To her dismay, no alternatives existed at that time.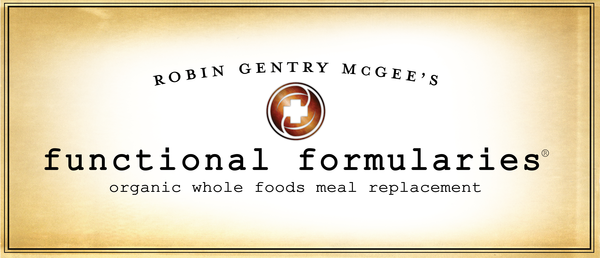 Taking Her Family's Health into Her Own Hands
She began her mission to create amazing gastric feed that could help her father recover. She succeeded and has been providing "Liquid Hope" to the world for over a decade! She never intended to sell the formula, but so many people came to her wanting this solution that she had created.
She began her company Functional Formularies in order to help families around the world heal their loved ones using real food. Her formula is a complete formula that addresses all macronutrients and micronutrients. I was astonished that even each individual form of each vitamin was the optimal for absorption and efficacy.
I am a stickler when it comes to ingredients, and I must say that I was really impressed when I saw this formula. We have been talking to them among other companies in this space to create special ketogenic formulas, and about how we can all partner together to create this revolution.
The video below is about Robin's story, and click here to learn more about Liquid Hope. You can get ready-to-consume gastric feeds for your loved ones right now if that is something you require.
Robin Gentry McGee Explains Her Story of Liquid Hope:
Real Food Blends:
Another great option for non-vegetarian versions of gastric feed come from none other than Real Food Blends. This is another great example of an amazing family taking their personal health into their own hands, and changing how the game in this country is played.
After a very severe seizure, the son of the creators of this company could no longer swallow food conventionally. Their son was drinking all sorts of synthetic formulas, and was having serious digestive issues and a multitude of other negative side effects until they started blending real food.
It wasn't until they had to go on vacation with their son that they began to create their portable, shelf-stable, real food blends. After a wildly successful Kickstarter campaign, they were able to launch their company that now helps tens of thousands of people across the globe.
For their full listing of products check out their website HERE, and for their full story, check out the video below.
The Story of Real Food Blends:
Blenderized Gastric-Feed
You can also make your own blenderized gastric feeds using a high speed blender like a Vitamix, Nutribullet, Ninja, or Blendtec Blender. These kinds of blenders can chop up the food at a cellular level.
Even if you can eat conventionally, drinking a smoothie or eating a soup made of fruits and veggies that have already been made ready to absorb is a great way to get a ton of nutrition in an easy to consume package.
"How to Feed a Brain: Nutrition for Optimal Brain Function and Repair" by Cavin Balaster has a step-by- step guide for blenderized feeds. You can also find an overview in our Handouts section.
What About If I Can Eat Conventionally?
For me, having one to two liquid meals per day helps me feel nourished, and cleansed without feeling overwhelmed with prep time and clean up. Juicing is great if you want to ingest a very large quantity of nutrients in a little juice, but blending these same foods retains their fiber.
The fiber can act as a prebiotic for our microbiome. It can also help to stabilize blood sugar, and cleanse our intestinal tract. Juicing has its uses when we want to absorb the nutrition of a pile of green veggies, and other foods, but fiber will keep you feeling full if you want to make your drink a meal.
Here is One of The Blenders We Really Love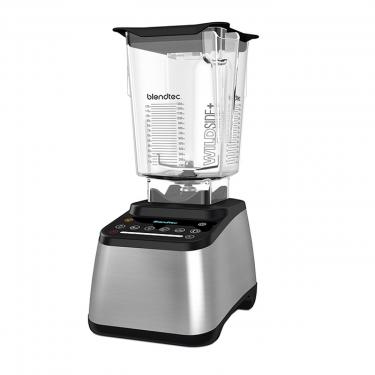 FDA Compliance

The information on this website has not been evaluated by the Food & Drug Administration or any other medical body. We do not aim to diagnose, treat, cure or prevent any illness or disease. Information is shared for educational purposes only. You must consult your doctor before acting on any content on this website, especially if you are pregnant, nursing, taking medication, or have a medical condition.