A Fat Chance (Part TWO): Why do I Eat so Much Fat?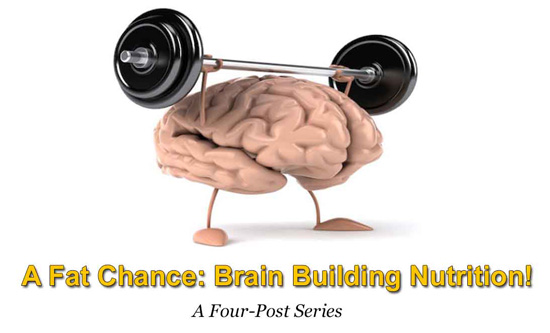 Notice: This is the second article in an ongoing series. Make sure to check out the first part before reading this one, and check out the next articles in the series afterwards!
A Fat Chance (Part TWO): How and Why I Eat so Much Fat!
After my brain injury, I learned of the importance of nutrition for the healing brain and body (Food for Thought). I realized that 60% – 70% of the dry matter of the human brain is composed of lipid (fatty acids), and most of those fatty acids are AA (arachidonic acid) and DHA (Docosahexaenoic acid), which are both found in saturated and unsaturated animal fats (1).
This realization inspired me to study the importance of different fats and oils for brain health, and because I had been conditioned to think fat was terrible for human health my entire life, I embarked on a quest to find out if these fats and oils could be utilized to feed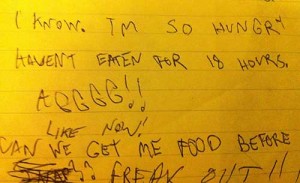 my brain without compromising my health (even though, when I could not eat or talk, I wrote that I wanted to get fat!).
Last year, I met a 15-year-old boy with drug-resistant epilepsy; he had a seizure nearly every day. I quickly fell in love with this kid, and his family and I became very fond of each other. He even made me a CAVINBOUNCE poster made out of duct tape for Christmas last year. It now hangs above my work desk.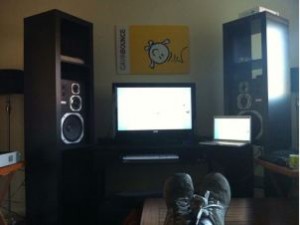 I wanted to understand as much as I could about his condition and the safest and most effective treatments that were available. I had already begun eating only "real food," emphasizing the foods that were available to our species before the agricultural revolution (Biology, Evolution, and The Brain), and I had heard about the ketogenic diet, which is a high fat diet that has been shown to be neuroprotective 4, 5, 13, 18. I needed to do far more research on the subject, so I began to search for people that were knowledgeable about high fat metabolism.
The word "diet" often conjures up unpleasant feelings of restriction, and with the most popular of diets being those that aim to limit caloric intake, it is no wonder! The word "diet," however, simply means "the foods that one habitually eats" 2. I follow my own rendition of a ketogenic diet, which does NOT limit calories or the amount of food. The rendition that I follow does, however, exclude trans fats and limits foods that do not appear to have been consumed before the agricultural revolution. It is simply a diet based on ratios. This is the ratio that I would shoot for:
| | |
| --- | --- |
| Foods | Percentage of Daily Calories |
| A lot of fat (mostly fats from animals and fish) | 60% – 75% of calories |
| A liberal amount and variety of non-starchy vegetables (like broccoli, onions, peppers, carrots, leafy greens, etc.) and low glycemic fruits (like berries, tomatoes, avocados, etc.) | 15% – 30% of calories (fibrous foods like low GI fruits and non starchy vegetables are low in calorie per gram, which allows you to consume up to 9 cups or more!) |
| Moderate protein (complete amino acids like animal or fish proteins) | 10% – 20% of calories |
| A small amount of high carbohydrate whole foods: starchy vegetables (like potatoes, yucca, squash, etc), higher glycemic fruits (like bananas, grapes, melons, etc.), grains (rice, quinoa, oatmeal, etc.), and all dried fruits. | 0% – 15% of calories |
| Very little high-carbohydrate processed foods (like chips, candies, energy bars, etc.) | 0% – 10% of calories |
The culmination of my research and efforts demonstrated that, for most individuals, a low fat diet is NOT supported from an evolutionary point of view, whereas traditional animal fats are indeed supported from an evolutionary perspective (Biology, Evolution, and The Brain). I choose to liberally consume the healthy fats that humans have been eating for a very long time, and it appears that animal fats have been consumed by humans for hundreds of thousands of years. I avoid fats and oils that are a relatively recent addition to our diets, especially the industrially produced seed and vegetable oils as well as artificial trans fats, which are shown to be detrimental to brain health (Akoh 273-276) 16, 23. Seed oils, like canola oil and vegetable oil, are also not supported from this perspective. I can think of no possible way that our ancestors evolved using massive machines to squeeze hundreds of thousands of seeds in order to extract the oil to fry something or to drizzle on a salad. These seed and vegetable oils were not available before the industrial revolution, which makes them a very new addition to the human diet. The heavy duty machinery that is required to extract these oils is the reason why they are often referred to as "industrial seed oils." Often these oils are even deodorized to mask the fact that they are spoiled through oxidation 21.
Natural fat is neuroprotective in that it is shown to protect against seizures and epilepsy. In fact, the ketogenic diet has become known as an anti-epileptic treatment, advocated by popular figures like Meryl Streep in the movie "First Do No Harm" 3. A ketogenic diet also appears to lessen the harmful symptoms of neurodegenerative disorders including Alzheimer's and Parkinson's disease. Of course, my favorite finding was that this diet may also be protective against the damage done by traumatic brain injury and stroke 4, 13.
In an earlier post (Semis and Lane Closures), I wrote about how cholesterol is found at every synapse between neurons in the nervous system. I also showed how cholesterol does not seem to be the cause of heart disease, and that cholesterol is an important bioactive factor for brain and body health (including sex hormone production). In light of this information, and because I seemed to be in good digestive health since addressing my leaky gut (Food for Thought), I was THANKFUL that cholesterol is often found in fats that contain both AA and DHA, which are precisely the kind of fatty acids that make up the majority of the brain 1. In fact, although the brain only consists of about 2% of the mass of the human body,  it contains nearly 25% of the body's total cholesterol 17.
I began to research individuals currently practicing a low carbohydrate and high fat diet when I came across Jimmy Moore from "Livin' La Vida Low Carb." Jimmy lent an enormous amount of assistance to me in implementing a ketogenic like diet and doing so in a safe manner. I had already put to rest my own fat phobia that has been instilled within our culture for decades. My own research, along with Jimmy's guidance, had allowed me to tip-toe into this unknown realm of a high fat diet to supply brain building nutrition. I decided to try this ratio out while I continued to research it.
It really was not difficult to eat more animal fats. Who doesn't love butter and bacon!? However, while I had been gluten free for months at this point, it proved to be difficult for me to really limit the amount of sugars and starchy vegetables that I consumed. I remember one day, early after implementing a high fat content to my diet, I had a very fat heavy lunch. After that lunch, I had a chocolate craving, and decided to eat quite a few truffles (sugar). After an hour or so, I suddenly had terrible acid reflux, and thought this was due to the increased amount of fat. I was partially right, but Jimmy explained that the reflux was likely due to the carbs (sugar) that I had ingested along with it. I had missed the target ratio. It was not the fat alone that caused me to have acid reflux, but the combination of the high fat meal with too many carbohydrates like sugar. In fact, the ketogenic diet is often prescribed to TREAT acid reflux (Gastroesophageal Reflux Disease AKA G.E.R.D) 19.
The most difficult part of this diet was getting my body to change its mode of obtaining energy from being fueled by carbohydrates and sugar, to being fueled by fat. All animals have a hard time with change, and we are no different. By the definition of homeostasis, the body resists change to the regulation and metabolism that it has grown accustomed to 6. Therefore, changing the body's metabolic fuel source can be a very uncomfortable transition. When changing the pathways of my metabolism (changing the fuel source that my body used), I certainly had difficult cravings to overcome, but as the weeks passed, the cravings subsided, and I began to feel better. Now, I feel healthier than I can ever remember feeling.
Many athletes that use this diet test their breath, urine, or blood to be sure that they have reached ketosis and are obtaining energy from fat. I, personally, do not. I think that testing is unnecessary in my situation and testing strips can cost quite a bit. I am not particularly worried about whether I have reached ketosis because reaching ketosis is not vital for me, nor am I training for a competition where I need to monitor my body to such a degree. I am able to eat three meals a day in this ratio while feeling satisfied, not needing to snack, and not experiencing intense cravings for sweets. This is a good indicator that, during those periods, I have reached ketosis and my body's fuel source has changed over.
Before my brain injury I was not a heavy guy, and after being hospitalized for months, I had lost over 30lbs. After regaining most of my preinjury weight, I was not, and am not trying to change my weight or body composition, as I am far more interested in how healthy I am feeling and how well my brain is functioning. Not only has this high fat/low carb diet not made me fatter, but all evidence demonstrates it to be effectively supplying brain building nutrition. Additionally, much research has been done that shows that this way of eating is effectively neuroprotective 18. In part 4 of this series, I will discuss this research in depth.
Get the Guide to Fats and Oils from the How to Feed a Brain book!
Go to part three, where I dive into the metabolism of fat with the help of Dr. Richard Feinman, a cell biologist at SUNY in Brooklyn, NY.
Read our article on Which Fats Are Healthy Fats