A Fat Chance (PART ONE): Brain Building Nutrition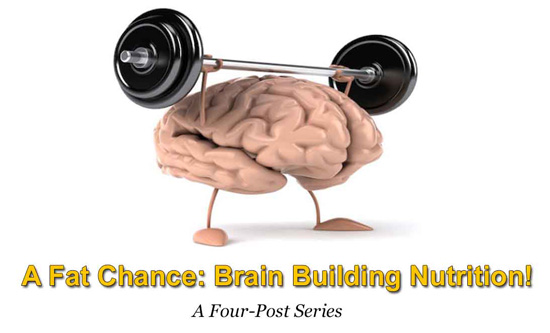 A Fat Chance (Part ONE): Introduction
Notice: This is the first article in an ongoing series. Make sure to check out the next articles when you're finished with this one!
A Fat Chance (Part ONE): Introduction
Fat and the Brain?
I eat a lot of fat and have been doing so for a year now. While I do not recommend a high fat diet for everyone, and I recognize why certain individuals will have ethical and moral objections to eating animal fats, I have come to realize through extensive research that, for health reasons, it can be unwise to consider dieting away from naturally occurring fats, especially while the brain is healing!
I will begin this series of posts with a statement that tends to surprise most people, and would have surprised me before my research into human metabolism and brain building nutrition: I currently eat a stick or more of butter a day and have been doing so for a year now. Because of my brain injury, I am physically unable to run and only mildly active. Before installing my treadmill desk, I have been quite sedentary. Yet, despite the common expectation of me being in poor health, I have been able to return to what was my healthy weight before my brain injury, and I feel stronger and clearer than I did even before my TBI. There are many things to consider and much more to it than just eating a high fat diet. In this 4 part series, I will explain what is involved, how and why I believe that this practice is beneficial for my brain as well as my body, and the potential risks surrounding this therapy.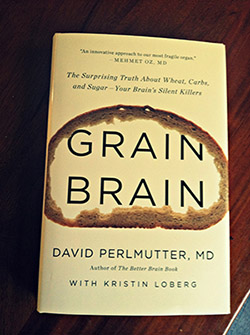 Throughout my writing, I have not written about any therapy relating to diet or medication unless I have personally practiced it for an entire year. This practice, which is usually, and understandably, met with an enormous amount of skepticism, is no exception to that rule. It excites me to be able to provide yet another example of the benefits of a well-practiced, high fat diet to the many smart, cutting edge, and progressive doctors who are familiar with the most recent research, and who are now preaching a higher fat and lower carbohydrate diet.
One such MD, Dr. David Perlmutter, has recently published a New York Times best seller, outlining the importance of fat and the "silent killers" of wheat, sugar, and carbohydrates in the diet. Now, more than ever, we're beginning to see the work of Dr. Perlmutter and others like him challenge fat phobias and stigmas. The famous Dr. Mehmet Oz of "The Dr. Oz Show" recently interviewed Dr. Perlmutter on his show, and gave his written endorsement featured on the cover of Dr. Perlmutter's new book, "Grain Brain," saying "Dr. Perlmutter outlines an innovative approach to our most fragile organ." This kind of positive reception is a sign that this message is finally reaching the mainstream! (See the interview here.)
On occasion, I sometimes visit a local diner here in Austin. I order a cup of decaf coffee with a lot of butter. I can remember the first time I sat at the bar, I asked about their kinds of coffee and if they use real butter or margarine, because I do not eat margarine (trans fats are detrimental to brain health 16, 23). The bartender told me that they only serve real butter and organic coffee, so I placed my order emphasizing a LOT of butter. The bartender was very friendly and accommodating as he placed a cup of coffee and four ramekins of butter in front of me. He shook his head in disbelief as he watched me empty an entire ramekin into my coffee. He told me that this was the first time that he had ever seen such a thing. I explained that it used to be strange to put cream in your coffee. "What is butter?" I asked "It's just churned cream." I watched as his eyes showed a brief moment of realization. He then expressed concern about the fat content I was ingesting.
In this series of posts, I will elaborate on how I have learned to supply my healing brain with the kind of nutrition that it is craving, without compromising my health. In cooperation with a cell biologist at SUNY in Brooklyn, I will dive into the metabolic science behind Brain Building Nutrition. It is my sincere hope that by elucidating the many benefits of a healthy and safe high fat diet, I can help to further reduce the fat phobia that prevents those recovering from brain injury or suffering from neurological disorders from adequately supporting their brains and bodies.
 An enormous thank you to Dr. Richard Feinman, Jimmy Moore, and Rachel Flowers for their assistance with this post series!
Get the Guide to Fats and Oils from the How to Feed a Brain book!
Go to part two, where we talk about what kind of fats support our health