Generating Neuronal Connections: Building Bridges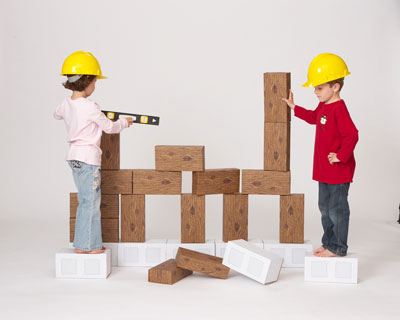 Through the process of my rehabilitation I have encountered a plethora of different ailments and therapies. I feel that it is most important to illustrate the therapies that I am still using for some of these ailments. As there are many different ailments, I will focus cogently on double vision. I will also share two methods to improve balance that I have found to be very effective, and finally I will reiterate the importance of brain building nutrition.
Survivors of brain injury commonly experience a condition known as, "brain fog." It is practically an immeasurable baseline, or starting point for comparison, for all brain injuries. Brain fog can be described in many ways, none of which really captures the actual feeling. In practice, it seems nearly impossible to relate to the feeling until one looks back and realizes the clarity was not there. I have already addressed what has been by far the most effective method for me of relieving brain fog in earlier posts: "Food for Thought" and "Biology, Evolution, and The Brain." If you or a loved one have brain fog, I highly recommend reading or re-reading those posts. Most simply, brain fog is the lack of conscious clarity that can be the source of enormous frustration. This frustration is made much worse if one's perception has been damaged as well. It is an insult to injury.
Many therapists and doctors have told me: "you look with your eyes, you SEE with your brain." What is meant by this expression is that the brain interprets the information from one's eyes in order to see an image. The brain also automatically instructs certain muscles in order to focus, become more or less light sensitive, or to tell the muscles in the eye to align in a certain way in order to get a clearer picture. When the brain is unable to affect one or more of these functions, The result is that of a blurred, dark/bright world, and/or, most commonly with brain injury, diplopia (double vision).
There can be a kind of doubling effect (no pun intended) on brain fog surrounding diplopia because the lack of mental clarity affects the subject so that she is not aware that her vision is impacted. The visual damage that I suffer from is commonly known as "Double Vision" or diplopia (see earlier post: Double Vision). The vision in my right eye is skewed lower than my left eye by 4 diopters (a visual measurement of alignment). Of course, I have lenses that correct my skewed perception by using a prism in my right lense in order to move the image that I see with my right eye higher. If someone who does not have this condition and, therefore, has normal alignment, wears my glasses, they will see double in the opposite direction that I see double in. I have met a few people, however, who have tried on my glasses only to tell me that they actually feel like they see better with them. Also, a few people do not seem to notice a difference. Many people possibly have diplopia and do not even know it; and surrounding brain injury or disease, the disorienting nature of brain fog alone, can leave many issues undiagnosed.
There are many signs of diplopia including squinting or closing one eye to read. There is also sometimes a noticeable misalignment in the actual placement of one iris compared to the other. This can be noticed in the picture of me in an earlier post (Double Vision). The alignment of my eyes is split mostly vertically, but somewhat to the right as well. A horizontal misalignment, however, is more common.
Vision, as related to communication, is relative. To illustrate I will use the age old and currently unanswerable question: "Is my experience of a color the same as yours?" What if my red is your purple? Lets say that is the case. The colors that I chose as examples are arbitrary, but the point is that neither of us would be able to know or communicate our differing experiences when we see the same color. Because your perception of what I call red is purple, and has been your entire life, you learned to call the color that I call red (but you see purple) by the same name: red. So we both refer to the same color with the same name even though our experience of that color is different.
Similarly, someone asking another if they have double vision will be answered comparatively. When brain fog is present, I can say from experience that I, for one, could not speak about my vision before my brain injury and compare the two. So if I were asked if I had double vision, I would not say yes. But indeed I did have double vision, and until I became clear enough to realize that I prefer closing one eye to focus, and brave enough to speak up about it, no one asked or tested my vision.
Unlike the currently unanswerable question about colors, diplopia can be tested and so the question is answerable. Unfortunately, there is no real easy at home test that I was able to find online, so I have asked my vision therapist to think of one. This is one idea for a test that would at least tell the person administering the at home test whether it is something to look into or not.
What is needed is a simple pair of "3D" glasses. These have a red lens and a green one and can be ordered online or found in a local grocery. The next thing you'll need is a small light source like an LED. The color of the light should not be red, blue, or green. A white LED is preferable.
Put the light in a dark room and turn it on. Then have whoever is being tested wear the "3D" glasses before entering the room. While they are wearing the glasses, lead them into the room and ask how many lights they see and what colors they are. If they answer anything other than one light, they should certainly have their eyes looked into by an optometrist who is familiar with diplopia and vision development. Even if they answer one, sometimes the brain suppresses one eye. Ask what color the light is while both eyes are open. If their vision is fine, this is a difficult question to answer with both eyes open because the answer will be both red and green. What I mean is not a mixture of red and green (brown), but rather a perception of both colors simultaneously because each eye is seeing a different color. If they answer one, but that one light is a solid red or a solid green, however, there is a good chance that their brain is suppressing one image and should be looked into by an optometrist who is familiar with diplopia.
If self administering this test, it is imperative to be honest with yourself. You will know there is only one light, but it is important to report what you see, and not what you know is there. If you are doing this assessment on someone else, it is much more accurate to not tell them what's going on until after the test.
I find vision to be incredibly important because it is so hard for one to find clarity when ones perception is not clear. I applaud my mother for realizing the importance of my vision and making it a high priority before I got any funding for such therapies.
Another therapy that I have found to be very helpful was performed after I regained some balance through aquatic therapy (Out of Balance). This was to challenge my balance further. When I first saw my neurologist, Dr. Tom Culleton, he had me stand on a small piece of foam-like material to challenge my balance. I could not stand on this for even a second before I would lose my balance, but after months of aquatic therapy, I could stand in it for a moment and had the "where with all" to be able to catch my balance if and when I fell off of it. We ordered this pad and it seemed expensive to me. "Sixty dollars!" I exclaimed. "It's a piece of foam! How can they charge that much?!"
My mom told me to shut up and get it, so I did, and I know now that it is worth it's weight in gold! I began standing on this pad while brushing my teeth everyday. This method allowed me to kill two birds with one stone, as they say. I would fall off of it every few seconds, but, after a while, the amount of time between each fall would increase. My balance improved dramatically, especially considering that there was a point when I could not balance at all even without it.
After being able to stand on this pad for the duration of my teeth brushing time, I tried closing my eyes while standing on it. Because vision lends so much to ones equilibrium, this was almost impossible for me. After attempting this for months I was able to stand for more than a few seconds with my eyes closed. I can now (usually) do this for the duration of my teeth brushing time, and I am now working on standing on one leg.
I asked my mother to try standing on the pad one day, and she had no problem. I then asked her to close her eyes and she almost immediately fell off. When friends visit I often have them try the same thing, and they fall off too. I have better balance on this thing then quite a few people! I began to think about how useful this activity would be for anyone, and not only someone with a brain injury.
I still stand on this pad everyday when brushing my teeth, and it has improved my balance an incredible amount. I can't dance… But I can balance on a wonky piece of foam! It helps alot with my current practice of Jiu Jitsu and yoga, and, like I said before, it is worth its weight in gold!
The last therapy that I will speak to that I have been doing since I began seeing Dr. Culleton, is doing some sort of upper body workout every morning. The way I felt when I first woke up was awful!:
Exerpt from earlier post: "The Push and The Pull"
"I was incredibly weak. Every morning I woke up in pain. It was a pain unlike any I had ever experienced. My legs were numb yet ached… My left especially. My left leg sort of tingled and was sore, while my right leg was just sore. I felt like I was a hundred years old. When I rose to my feet, I had to kind of push myself off of the bed to my feet but towards the wall, because I knew that I would lose my balance immediately when I was upright and I would need a support like the wall. My legs would wobble uncontrollably for the first few minutes, but the shaking usually would almost completely subside after a few hours. My brain and body needed to figure out how to work together every morning, and never seemed to get it right."
Dr. Culleton told me to do some upper body work, like push ups, right after waking up. He didn't tell me to do a certain amount (I couldn't even do one from my toes at that point), but told me to do as many as I could before I had to give up. I began by doing five knee push-ups before I would give up from exhaustion. He told me to then add one more everyday if possible. Most days I would, but some days I couldn't.
When I got to ten knee push-ups, I tried to do a push-up from my toes. And I got one! When trying to do a second, I would shake and my arms would collapse from the weight. I would roll onto my back, winded, and stay for a minute to catch my breath. After doing enough to wear me out (one push-up), however, My legs would not shake and I would have more control over my limbs; control that used to take me hours to obtain.
The reason for this is because the brain becomes very active during strenuous physical activity. A New York Times article that I have cited before says it quite concisely:
"Moving the body demands a lot from the brain… This increase in brain activity naturally increases the brain's need for nutrients, but until recently, scientists hadn't fully understood how neurons fuel themselves during exercise. Now a series of animal studies from Japan suggest that the exercising brain has unique methods of keeping itself fueled. What's more, the finely honed energy balance that occurs in the brain appears to have implications not only for how well the brain functions during exercise, but also for how well our thinking and memory work the rest of the time."
(http://well.blogs.nytimes.com/2012/02/22/how-exercise-fuels-the-brain)
After doing one push-up, I continued on to try to do two everyday. After I was able to do two, the next day I would try for three and so on. I was getting stronger. After a few months I was able to do 20! I didn't stop. I kept to this regimen until I could do two sets of 50 before I took it back a bit. Today I do 40 push-ups every morning. It seems to "wake my brain up" better than any cup of coffee ever did!
Therapy is a piece of the puzzle, but it is not everything. Because physical activity increases "brain activity naturally" and "increases the brain's need for nutrients", brain building nutrition must be supplied. See earlier posts: "Biology, Evolution, and The Brain" as well as "Food for Thought" about how important food is to brain health, and how I ate to recover from my own brain injury.
I think of building new pathways in the brain using an analogy of a bridge. In this analogy, doing therapy is like putting skilled workers to work to build a bridge. If you don't include the right nutrients, it is like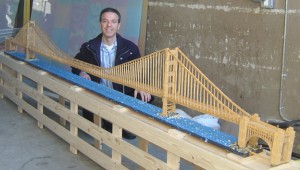 giving them a pack of toothpicks to build with. Skilled workers can not build a very sturdy bridge with toothpicks as building materials. I have seen some amazing bridges built with toothpicks (like the one pictured), but I would feel much more comfortable crossing a bridge that was built with stronger materials. Conversely, eating nutrient dense, brain building nutrition, but doing little or no therapy is like having all the lumber that one would need to build a sturdy bridge, but only children to build it. Either way, a bridge, or new pathways within the brain, are not very well built in both scenarios. Both skilled workers (therapy) and the right building materials (nutrition) are necessary.
When it comes to brain injury and disease, I feel as if the conventional model for recovery is incomplete at best. I feel that there is so much more that could allow people to recover. I know I am lucky, but I also see the deficits within the conventional medical model. I plan to continue down my own road of recovery and to help others to recover. People's lives, as well as their families' and friends' lives are incredibly important.
---
In this segment from my keynote speech at the Neuro-Optometric Rehabilitation Association conference 2014, I briefly touch on mechanisms of plasticity and repairing neurons through a combination of synergistic therapy and brain building nutrition–including an analogy from my original blog post: Building Bridges – Regenerating Neuronal connections.
From the post:
"I think of building new pathways in the brain using an analogy of a bridge. In this analogy, doing therapy is like putting skilled workers to work to build a bridge. If you don't include the right nutrients, it is like giving them a pack of toothpicks to build with…Conversely, eating nutrient dense, brain building nutrition, but doing little or no therapy is like having all the lumber that one would need to build a sturdy bridge, but only children to build it. Either way, a bridge, or new pathways within the brain, are not very well built in both scenarios. Both skilled workers (therapy) and the right building materials (nutrition) are necessary."
---