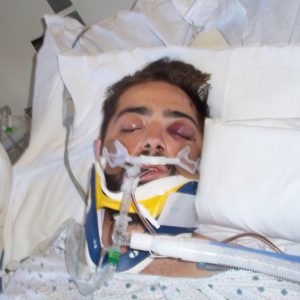 In 2011, I sustained a severe traumatic brain injury –diffuse axonal injury (DAI)–, which is one of the most devastating types of brain injury. Statistically…
over 90 percent of patients with this brain injury never regain consciousness, and most of those who do will often remain in a persistent vegetative state. 
My recovery journey began after finally waking from a 12-day coma before serious complications arose with the need to induce a second coma. In the following months, I endured severe brain fog, memory loss, breathing problems, incoordination with the left side of my body (my left hand was completely flexed inward), and…
I didn't eat, walk, or talk for months.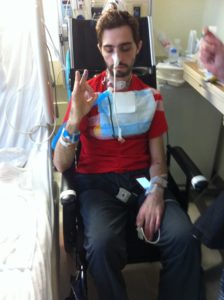 In the wake of my brain injury, I was lucky enough to be introduced to a particular eating and supplement regiment. Soon after implementing this nutritional practice, I began to regain clarity. I did not realize it at the time, but I had been in a fog since my injury. I had been in such a dense fog that I was not even aware that I was in a fog. How can one tell that it is raining when underwater?
I utilized my newfound clarity and found myself researching metabolism, neuro-metabolism, mechanisms of neuroplasticity, nutrients for synaptogenesis, and anything else I could do to optimize my recovery.
I was studying like my life depended on it…because it did.
With a commitment to understanding how to feed my brain for optimal function and repair, I was also reaching out to practitioners across the globe, some of whom contributed their time and attention to my questions and requests and who helped me further. The most notable practitioner who responded in support of my contact has to be Dr. Alex Vasquez DO, ND, DC. In addition to his three doctorates, Dr. Vasquez is also on the board of the Institute of Functional Medicine and an international lecturer and author of more than 120 professional/scientific articles and 20 books—including the two-volume Textbook of Clinical Nutrition and Functional Medicine.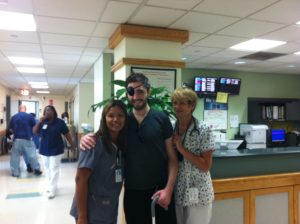 In 2013, I reached out to Dr. Vasquez to introduce myself and to thank him for the online resources that he makes available. The timing was such that he invited me to attend the International Conference on Human Nutrition and Functional Medicine (ICHNFM), noting that there would be an entire day dedicated to the brain. This would be the first of many medical conferences that I would attend this medical conference with hundreds of practitioners and students.
While at the conference, on the day that was dedicated to the brain, Dr. Vasquez asked me what the most effective therapy was that I did for my brain after my injury. I responded by saying, "Honestly… healing my gut was what made all of the other therapies effective." We began to talk about the gut-brain axis (learn more here), and at one point, Dr. Vasquez said, "Ya know… We need you on stage." Then, looking at his watch he asked, "How do you feel about being on stage in about 20 minutes?"
The next thing I knew, I was giving an impromptu presentation to a hall filled with hundreds of medical students and practitioners. After giving a short synopsis of my story and illustrating why nutrition is so paramount to brain health, Dr. Vasquez said a few words and the crowd began clapping. As I looked over the audience of practitioners and students who would make up much of the future of medicine, I realized:
I could make a difference in neurorehabilitation, and my path began to crystallize.
In that audience was Andrea Nakayama, a world-renowned functional nutritionist and health educator whose company provides what James Maskell of Functional Forums has called "the only scalable functional medicine training that exists."I ended up joining Andrea's team, preparing course materials for her online functional nutrition training (Functional Nutrition Lab). This work exposed me to so much more that would prepare me to become who I would need to be in order to accomplish what I have set out to accomplish since this injury. I have so much appreciation not only for the opportunities that she has provided, but for everything that she is, the work that she does, and the light that she radiates. You can learn more about Andrea and her practitioner training at feedabrain.com/fnl.
Today, I write this with great appreciation, gratitude, and purpose as I have recovered beyond all expectations. I now drive, ride motorcycles, camp, play guitar, sing, swim, and practice martial arts! I even do backflips off of diving boards! With their expertise playing a monumental role in my recovery,
I am now working with doctors, nutritionists, chiropractors, neurologists, professors, dietitians, nurses, and therapists, (some of whom are also successful survivors) putting together resources that help guide others.
After my injury, I did not know if I'd ever recover enough to lead a "normal life," but I vowed that if I did get better, I would work to share the most effective tools that I found throughout recovery. My primary goal for sharing the information I've learned throughout my experience and work within many different medical communities, while beneficial for anyone, is helping survivors and their loved ones as they navigate the turbulent waters of recovery.
I am honored to share with you the tools that I found to be most useful towards neurological health.
Whether we want to give our brains the best shot to repair or to support normal brain function, we must supply the ingredients.

Click the banner below to learn more about me and the resources I provide to brain injury survivors and loved ones.