Heal Your Brain with Nutrition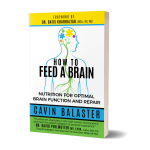 "How to Feed a Brain is an important book. It's the book I've been looking for since sustaining multiple concussions in the fall of 2013. I've dabbled in and out of gluten, dairy, and (processed) sugar free diets the past few years, but I have never eaten enough nutritious foods. This book has a simple-to-follow guide on daily consumption of produce, meat, and water.
I appreciate how Cavin writes about important concepts, such as leaky gut and glial cells, in a clear and concise manner.
There are a large number of people attempting to recover from brain injuries that are lacking the right information on nutrition. Thanks to Cavin and his team, we have this book now.
I look forward to eating my quality vegetables, proteins, and fats every day now as I know that they will help my brain to heal.
Cavin's story is inspirational and worth a read on its own."
- Jacob