Improving Your Brain 101:
An Introduction to the Feed a Brain Nutrition Guidelines
We all want our brain's to work better. None of us want to experience brain fog, forgetfulness, headaches, migraines, or even seizures. The firs step we must take in regaining our brain health and optimizing our brain function is to be sure that we remove what is hindering our health, and supplying enough of what we need. The Feed a Brain Nutrition Guidelines can help you make healthy choices that will benefit your body and mind. On this page, we'll take a quick look at the Feed a Brain Food Pyramid and some of the handouts that are available on FeedaBrain.com. We hope that this information will help you get started on your journey to better health!
This guide is very intuitive with foods you want to include in the green areas, and foods you want avoid or exclude in the red areas.
The Ins: What to Include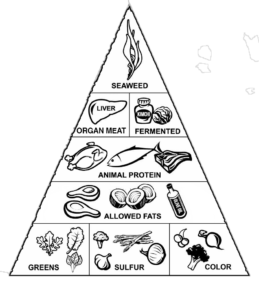 Eat Liberally
The Feed a Brain Food Pyramid is a handy tool that can help you make sure that you're getting the nutrients that your brain needs. The pyramid includes six essential categories of nutrients. Let's start at the bottom where we want the bulk of our nutrition to come from:
1. Produce
Produce like fruits and vegetables will make up the bulk of our food intake because they are packed with phytonutrients, or nutrients found in plants. There are three different kinds of produce that we want to supply in equal amounts:
Dark leafy greens

Sulfur-rich vegetables

Deeply pigmented fruits and vegetables
Dark Leafy Greens
Dark leafy greens like spinach, kale, arugula, and collards are packed with nutrients like vitamins B, A, C, and K, and minerals like folate, iron, magnesium and calcium. These greens are also high in chlorophyll, which helps to remove toxins from our bodies and provides us with more energy. 
Sulfur-Rich Vegetables
Sulfur-rich vegetables are found in garlic and onions, mushrooms, and brassica vegetables like broccoli, Brussels sprouts, and cabbage. These foods contain sulfur compounds that have been shown to contribute to healthy hair, skin, and nails, liver detox, and improve blood circulation. Blood circulation is so so so important because there are over 400 miles worth of blood vessels in the brain! Additionally, even though the brain only takes up about 3% of the body's total real-estate, it uses over 14% of our cardiac output and uses about 20% of the oxygen we breathe when we're at rest!
Deeply Pigmented Fruits and Vegetables
Deeply pigmented fruits and vegetables like berries, tomatoes, carrots, beets, celery, and sweet potatoes are an excellent source of antioxidants which are important for maintaining brain health. Antioxidants scavenge harmful toxins called "free radicals" that can damage cells, including brain cells.
2. Bone Broth:
Bone broth is a nutrient-dense food that contains vitamins, minerals, and amino acids that are easily absorbed by the body. It's also a great source of collagen and other amino acids that are excellent in the healing of our intestinal lining (healing leaky gut).
3. Healthy Fats:
The next food to supply in large amounts is both saturated and unsaturated fats from healthy animals, unsaturated fats from fruit oils like avocado, coconut, and olive oil, and especially specific Omega-3 fatty acids found almost exclusively in fish. For brain health (and overall health) we especially want to supply large amounts of DHAThis fatty acid is primarily found in cold water, fatty fish like salmon, mackerel, anchovies, and sardines. Much of the research on Omega-3's show DHA specifically to have the most beneficial effects on memory, and brain health. In the Chicago study (1), a strong neuroprotective effect (protection of the brain) was observed with DHA that was not seen to the same degree with EPA.
Several studies have also shown that people with Alzheimer's have severely low levels of DHA in key areas of the brain related to memory formation like the hippocampus (2)(3).
DHA is considered a "conditionally essential" Omega-3 fatty acid, meaning that our bodies can create this important fatty acid from other nutrients, but the conversion of almost all vegetarian sources of Omega-3s to DHA is not efficient. Most vegetarian sources of Omega 3s (like flax, walnut, mustard seed oil, and other vegetarian sources of omega 3s) do not actually contain any DHA, only the precursor to DHA (ALA). In biochemistry, a precursor refers to a substance that can be used to make another. This means that ALA can be used to make DHA, but, unfortunately, even the ability of healthy people to convert ALA to DHA is estimated to be only 0.2% to 4%.
This conversion occurs in the liver, and only works if your liver is functioning optimally.
Since we live in a world that we humans have filled with pollution, most people's livers are dealing with a total crisis of contamination, so this conversion is likely on the low end!
Our body's poor means of converting most vegetarian sources of Omega-3 fatty acids to DHA seem only to be in place as a backup to getting this nutrient directly from animal sources. 14 Luckily for strict vegans and vegetarians, there does seem to be a possible vegan supplement of actual DHA. This source is derived from algae and may provide the same benefits of animal sourced DHA, though further research is needed. You can find more information on this vegan source of DHA at feedabrain.com/vegan.
3. Animal

Proteins:
We want to include all 20 amino acids, 9 of which are considered "essential" because our bodies cannot create them. The best sources of protein are pasture-raised animals and wild-caught fish. These meats are higher in healthy fats, vitamins, and minerals than their factory-farmed counterparts. Not only are factory-farmed animals often given growth hormones and antibiotics, but there are also confined in inhumane conditions in which they are stressed and scared, which releases cortisol and adrenaline into their blood as well as other hormones and inflammatory markers. Any of these alone can lead to imbalances in our own hormone levels or create antibiotic resistance, and together we have a very damaging food source… both for ourselves and for the environment.
4. Super Foods
There are 3 different superfoods that make up the top three sections of the Feed a Brain Food Pyramid. You can find supplement options at feedabrain.com/supplements.
The Outs: What to Exclude
Everything that we eat or drink is either inflammatory or anti-inflammatory, and the digestive system is a primary site of inflammation. Additionally, digestion is impaired in the majority of people, and if digestion is not optimal, inflammation is the results. In fact, even in healthy adults, inflammation anywhere in the body can trigger inflammation in the brain. And, especially after an injury, inflammation in the brain is something that we do not want to trigger. 
The foods you want avoid or exclude are found in the red areas of this handout.
Remove Entirely (for at least 60 days)
When I say remove entirely, I mean it… No "I'll just have a little bit" or "It's not a big deal." It is a big deal. You will see massive improvements in removing these foods and allowing your digestion to heal. So just remove them! You can do anything for 60 days, and if you find that you really miss something, remember that you can always add it back in later (after the 60 days).
Remember that the brain is our organ of perception, so when the brain itself is inflamed, we may not notice brain-based symptoms. However, for optimal brain function and repair, we want to be fully aware of how foods make us feel, and these foods are considered by many researchers to be the biggest triggers of brain inflammation. 
Giving up the "Comfort Foods"
Wheat and milk products are considered "comfort foods" for a reason (think mac and cheese, pizza, quesadilla or chicken fried steak with cream gravy). It appears that both wheat (gluten) and dairy (casein) proteins have an opiate-like, addictive effect in the brain. This is why giving them up can actually feel like withdrawal. I completely realize that if you and/or your loved one is currently eating these foods, giving them up is easier said than done.
As we discussed, people with brain injuries/concussions or brain disease, as well as those who have been hospitalized and put on multiple medications and antibiotics are more likely to have a leaky gut. And with a leaky gut, wheat and milk can be especially damaging. When wheat (gluten) and/or milk (casein) proteins get into the bloodstream undigested, the intestine becomes even more permeable, allowing other foods that weren't bothersome before to cross into the bloodstream and to also cause an immune response. This phenomenon is called cross-reactivity, which can cause an immune response to tree nuts, citrus, strawberries, or so many other foods. This happens because the intestinal wall becomes permeable to other food particles as well, and the blood is not able to recognize any undigested food. 
Hang in there, because once you get past the initial phase of removing these addictive substances, your brain will be able to further heal.
1. Wheat & gluten (including yeast, rye, oats, and barley):
Removing wheat/gluten is absolutely critical for gut healing, as it is the most common food allergen. Even a tiny bit can cause an immune response that likely inflames the brain because wheat also contains a protein called gliadin, which has been shown to cross the blood brain barrier and to inflame the brain. If you want your brain to get better you need to remove wheat completely for at least 60 days, and then to greatly reduce it. No more pasta or bread unless it is gluten free or free of wheat. Dr. Kharrazian is so sure about the effect of gluten on the brain that he wrote in his brain book, Why Isn't My Brain Working?, that "[i]f you have a confirmed gluten sensitivity and feel going gluten free is too difficult, it is time for you to put this book down and realize your brain has no chance and you will continue to get worse."
2. Milk and all milk products:
This includes grass-fed butter, cheese, yogurt, ice cream, etc. Why? Lactose intolerance is not the only kind of intolerance that we can have to milk. In addition to the sugar found in milk (lactose), an immune response is commonly also triggered by six different milk proteins (four casein and two whey). While there is less research on casein, lactose, and whey, milk is widely considered to be the second most inflammatory food in our modern diet (second only to gluten). Additionally, the milk sugar lactose and the milk protein casein both of which have been shown to increase intestinal permeability (leaky gut), and have linked to inflammation, allergies, and cancer. Milk products can be found in many processed foods as well,. While all of these foods should be avoided, if you do decide to eat grains or processed foods on occasion, these are some of the processed foods that often contain milk (check ingredients):
Bread and other baked goods

Chips and crackers

Deli meats

Frozen meals

Margarine

Mayonnaise, salad dressings, and sauces

Processed breakfast cereals

Soup mixes.
3. All artificial trans fat (including hydrogenated or partially hydrogenated oil):
It is well documented and accepted that hydrogenated oils and artificial trans fats have adverse health effects, including detrimental effects to the brain. While it is required that trans fats above 1g per serving be labeled in the United States, many scientists and citizens alike believe that ANY amount of trans fats can adversely affect our health, so ANY amount should be banned from the food supply. Trans fats are a type of unsaturated fat with a chemical structure that has been engineered in a lab to make it solid at room temperature, and to have a longer shelf life. This process is called "hydrogenation" and the resulting fats are known as "hydrogenated" or "partially hydrogenated" fats. Trans fats are found in margarine, shortening, some types of peanut butter, crackers, cookies, and fried foods.
The brain requires healthy fats to function well and replacing those functional fats with less functional fats, such as artificial trans fats, industrial seed oils, and oxidized oils can hinder our brain function. 
Reduce or Remove 
Remove completely for gastric feeds 
1. Refined Sugars:
This includes all forms of sugar that have been processed and had the molasses removed including white sugar, brown sugar, powdered sugar, raw sugar, turbinado sugar, agave nectar, corn syrup, and high fructose corn syrup.
2. Grains (including corn):
This includes all forms of grains including white flour, whole wheat flour, breads, pastas, crackers, oats, quinoa, rice, barley, and rye.
3. Processed Foods:
This includes all foods that have been packaged or altered in some way from their natural state including canned goods, frozen dinners, processed meats (hot dogs, lunch meat), and anything with added preservatives, chemicals or dyes.
4. Artificial sweeteners:
This includes all artificial sweeteners such as aspartame, sucralose, and saccharin. Diet sodas are often thought of as a "healthier" alternative to regular soda, but they are actually much worse for your health. They contain artificial sweeteners like aspartame, which have been linked to cancer, and they have also been shown to increase the risk of weight gain, type 2 diabetes, and cardiovascular disease.
5. Additives:
This also includes all artificial flavors, colors, and preservatives. These are often found in "junk foods" or processed foods, but they can also be found in seemingly healthy foods like yogurt, cereal, and granola bars.
6. MSG:
Monosodium glutamate (MSG) is a flavor enhancer that is often used in chips like Doritos, Chinese food, canned soups, and processed meats. MSG overstimulates the glutamate receptors in the brain, which can lead to neurological problems, headaches, and even dementia.
7. All vegetable oils like canola, soybean, corn, and grapeseed oil (see A Guide to Fats):
Vegetable oils are a type of fat that has been extracted from seeds using a chemical or mechanical process that require huge industrial equipment. Not only are they are typically high in omega-6 fatty acids and low in omega-3 fatty acids (which can lead to inflammation in the brain and body), but they are also often oxidized. Oxidation most frequently occurs when oils are heated past their smoke point temperature. Almost every oil that is used for deep frying is likely heated past its smoke point temperature and is therefore oxidized, and many industrial seed oils are heated to high temperatures and are oxidized and then deodorized before they are even bottled.
8. Non-organic soy, soy milk, or rice milk:
Because 98% of soy grown in America is genetically modified, and
may increase intestinal permeability, we do not want to ingest ANY soy that is not organic. While there are differing opinions on organic soy, I generally recommend that my clients avoid it as well, especially if they are struggling with hormone issues (which most TBI survivors are). This is because soy contains plant estrogens (phytoestrogens) that can disrupt our own hormone levels. In addition to the potential for endocrine disruption, soy has also been linked to allergies, cancer, and gut dysbiosis (an imbalance in the gut microbiome). Rice milk is often used as substitutes for cow's milk, but it contains many of the same problems as soy.
9. Squeezed Juices
When a fruit is squeezed, the juice is collected, the pulp is thrown away, and the fruit is no longer whole. The pulp holds the fiber of the fruit, and without it, we are only getting the sweet liquid by itself. This can very easily spike our blood sugar, negatively impacting our brains and bodies. Fortunately, there are some excellent blenders on the market that make blended juices by vigorously blending produce (in it's whole food form) with water until the produce has a juice-like consistency. These juices do not spike blood sugar like squeezed juice because they contain all the pulp and fiber (remember, fiber, fat, and protein slow the release of sugar into the blood, preventing blood sugar spikes) that is excluded in squeezed juice. You do not need to eliminate all squeezed juice (lemon and lime is fine), but squeezed juices should be avoided.
How to Feed a Brain
Let's review… what do we want to eat to feed our brain? The first Feed a Brain Nutrition Guide gives you a simple outline and the pyramid is a great visual representation of the types of foods that are best for cognitive health.
At the base of the pyramid are three different kinds of produce- all of which contain essential nutrients like vitamins, minerals, and antioxidants that support cognitive health.
Moving up the pyramid, we find healthy fats like avocado oil, olive oil, coconut oil and fat from animals. Thee fats help protect our brains cells from damage and improve communication between them. You can get the guide to fats and oils in the 4th nutrition guide.
The next level of the pyramid includes protein sources like meat, poultry, fish, and eggs. These provide essential amino acids that are necessary for neurotransmitter production.
Finally, in the top 3 sections of the pyramid we find super foods like fermented foods, organ meats, and sea vegetables.
So remember: Eat plenty of fruits and vegetables from the 3 different kinds of produce; enjoy healthy fats including avocado, coconut, and olive oils etc.; include healthy protein sources such as grass fed beef, pasture raised poultry fish, and eggs; avoid artificial sweeteners, processed foods & refined sugar; drink plenty water; and remove all wheat and milk from your diet!
Please reach out or comment with any questions. I'm here to help and you can even feel free to text me at 512-766-4840.
Strength & Serenity… Love & Light… Rock & Roll!
| | |
| --- | --- |
| | Cavin Balaster |